Welcome
The Bushland Trust, since its inception in 1990, has been active in the clearing, creating filtration zones and re-vegetating with native trees around the Sweetwater Lakes located approximately 20 km north west of Kaitaia in the Far North of the North Island of New Zealand:
Lake Heather
Lake Rotoroa
Lake Ngatu
Lake Gem
Lake Ngakapua
Lake Rotokawau
Large areas have already been successfully regenerated and many thousands of trees and native plants flourish.
By involving youth and local groups in the restoration process, we aim to instill values of conservation, community spirit and care for their environment.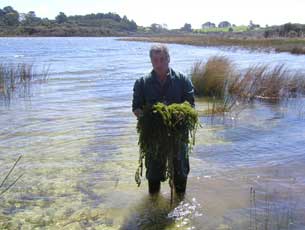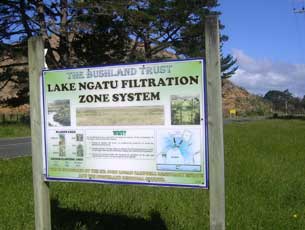 Chairman Kevin Matthews collecting armfuls of oxygen weed from Lake Ngatu
We work closely with the Department of Conservation and the Northland Regional Council to ensure that we follow bio security and ecological integrity principles and provide practical assistance in maintaining these areas for which they have oversight.
The Bushland Trust has its own nursery where our own staff collect locally-sourced seeds and on-grow all the trees and plants for our own plantings.
Local residents, schools, maraes and other interested community groups participate in our planting activities and events programmes and we provide Conservation Corps and other local groups with contract employment.